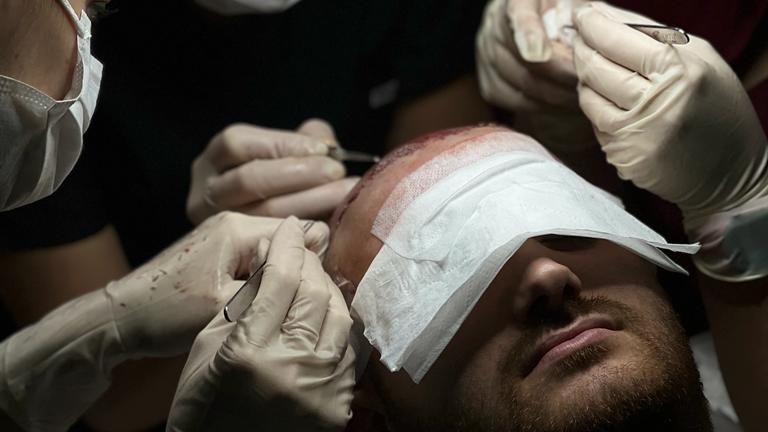 Hair transplants are an excellent treatment option for patients who are afflicted with disorders that cause hair loss. These surgical procedures are helpful for persons who are experiencing any form of hair loss; but, they are ineffective in preventing further hair loss. These transplants, unlike other types of transplants, do not require numerous procedures for results; nevertheless, if your hair loss continues to worsen in the future, you may require additional treatments.
This article offers some insight into the many forms of hair transplant surgeries that are available as well as whether or not they are successful. In conclusion, it can be concluded that hair transplant in Turkey is highly recommended.
Learn the reasons for hair loss first before continuing. It could be brought on by a hereditary predisposition or a daily occurrence. They include poor hygiene, erroneous application of hair products, and hair damage from using hair dryers and styling tools. Compared to women, men are the group most frequently impacted.
Hair Transplantation Surgery
Many individuals have been successful in regaining their lost hair thanks to the development of more effective procedures for hair transplantation. Hair transplantation surgery is an effective method of addressing problems that lead to hair loss. People from all over the world come to Turkey in search of the most skilled hair transplant surgeons in the world at prices that are more than reasonable.
Types of hair transplants
A medical operation known as transplantation involves moving tissue from one area of the body to another in the recipient. Surgeons perform hair transplants on patients suffering from baldness or thinning hair. The natural appearance of their patients is the primary focus of the surgeons in Turkey who do hair transplants.
The two types of hair transplants are described in more detail below.
FUSS: After removing the skin from the donor sites, the incision is stitched up. Surgeons will divide the skin into tiny, multi-hair follicle follicular units under a microscope (or some containing only one). After that, follicular units are implanted on the desired location.
FUE stands for "Follicular Unit Extraction." The donor location will be used to remove follicles using a punch tool. Well, these might leave some scars, but they won't be as noticeable, thus no stitches are needed. The process is not painful.
FUE and FUSS are both viable options for men and women experiencing hair loss. As with any treatment, however, outcomes will vary from patient to patient. In order to achieve optimal results for their patients, doctors with extensive training in FUE should perform the surgery.
The donor site is usually located on the back or sides of the head. The reason for this is because most cases of hair loss only affect the top and front of the head. A skin draft can also be taken from the back, chest, or chin. In addition, these are beneficial in treating patients in over half the cases. Without dense hair on the crown or sides of the head, body hair will continue to serve a purpose.
The process of employing body or beard hair is time-consuming and, once again, calls for more qualified doctors. Taking skin samples from elsewhere on the body besides the head is a major pain. Hair from the donor's body is, nonetheless, considered to be of high quality.
Depending on the size of the area being restored and the number of follicles to be implanted, any process can take several days. Those getting a hair transplant typically receive local anesthetic. The average patient spends 85% of their time in the hospital sleeping.
Success rates of both types of hair transplants
FUE employing body hair or beard hair in addition to scalp hair has been shown to result in long-lasting patient satisfaction, with studies showing that patients reported high levels of satisfaction at average follow-up visits lasting nearly 3 years.
Transplanting hair from one area of the scalp to another can effectively replenish bald spots. The density that can be achieved with follicular unit grafts, the thickness of existing hair, the expertise and experience of the surgeon, the type and chemical dose utilized during a FUE surgery, and the overall success of a hair transplant are all crucial to the procedure.
Tissue expansion/flap surgery techniques like graft multiplication/graft rotation may be employed when higher capacity is required than can be reached by an individual surgeon's skill level or expertise.
Surgeons frequently advocate platelet-rich plasma therapy to boost the FUE success rate. 75% of hair loss is reversed in the first 6 months after undergoing FUE and PRP therapy. Skin recovers quickly, especially when compared to the non-PRP group.
Hair Transplant in Turkey
In addition to its rich history and culture, Turkey is well-known as a destination for sophisticated medical tourism. Because of this, patients from all over the world travel to Turkey to receive medical care. Hair transplantation is one of the medical specialties that brings in the most patients seeking medical tourism. In Turkey, getting a hair transplant is easy to do thanks to the large number of available facilities. But, those that are located in Istanbul, Turkey, are considered to be the most effective and greatest overall.
How long do hair transplants last?
After the surgical operation, most people see a noticeable acceleration in the rate at which their hair grows. Nevertheless, this effect is only temporary, and around the five-month mark of the ten-month recovery period, patients may notice that they are shedding more hair than they did before they had the surgery.
People often decide to have additional operations done as soon as they have fully recovered from the first one so that the effects of the treatments can linger for a longer period of time. The American Society of Plastic Surgeons (ASPS) states that not all of the transplanted hair will survive and that some of it may fall out over time.
It is recommended to perform a "touch-up" intervention in situations where there has been thinning. It makes it possible to fill up the parts of the scalp afflicted by thinning where follicles may mix for the most natural appearance. In order to get the best possible outcomes, it is imperative that you adhere to the postoperative instructions given to you by a qualified surgeon. Some examples of these would be refraining from strenuous exercise for a set period of time or going a week to ten days without washing your hair. It is possible that practicing the guidelines can aid with a good recovery.
Take Away
In recent years, there has been a lot of interest in hair transplants due to the fact that they are a minimally invasive operation that may be done to replenish hair. The effectiveness of the transplant procedure is contingent on a wide range of circumstances, including the experience level of the operating physician and the quantity of donor hair present in the recipient. If you are concerned about your finances but simply cannot wait any longer, having hair transplantation done in Turkey is the best option.