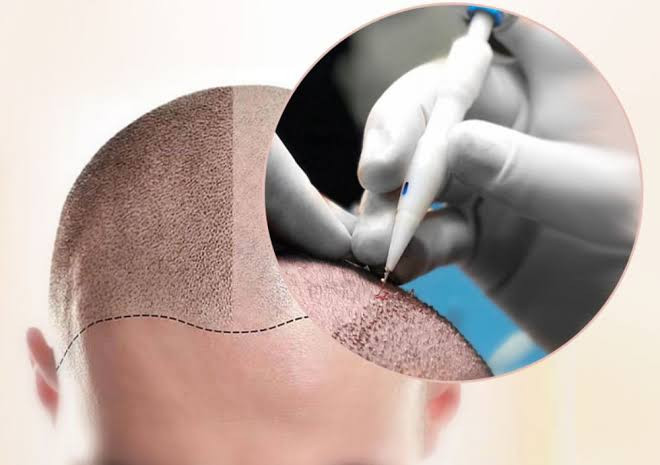 Dhi Hair Transplant; Miracle Hair Clinic Turkey is a highly respected hair transplant clinic in Turkey, recognized for its specialized knowledge in the advanced Direct Hair Implantation (DHI) technique.
Our clinic is equipped with cutting-edge facilities and a team of highly skilled professionals who are dedicated to delivering outstanding outcomes and personalized care to our valued clients.
Whether your hair loss is attributable to genetic factors, age, or any other cause, our DHI hair transplant procedure is designed to assist you in reclaiming your natural hair and restoring your self-confidence.
Throughout this comprehensive guide, we will delve into the intricacies of dhi hair transplant and elucidate the reasons why Miracle Hair Clinic Turkey stands out as the optimal choice for your hair restoration journey.
How much does DHI cost in Turkey?
In Turkey, the price of a Direct Hair Implantation (DHI) surgery might differ based on a variety of criteria, such as the clinic's standing, the skill level of the surgeon, the particular DHI technique employed, and the quantity of grafts needed. Compared to standard FUE (Follicular Unit Extraction) or FUT (Follicular Unit Transplantation) techniques, DHI is a specialized hair transplant process that usually entails higher expenditures.
In Turkey, a DHI operation usually cost between $2,000 and $5,000 or more. The real cost may vary based on a number of factors; this price range is only an estimate.
It is advisable to get in touch with many DHI clinics and get thorough quotes in order to obtain an exact and current estimate for a DHI surgery in Turkey. When making your choice, you should also take into account other elements including the reputation of the clinic, the experience of the surgeon, and the general standard of care. Remember that costs are subject to fluctuate, therefore it's critical to have the most recent data.
What is DHI Hair Transplant?
DHI hair transplant, also referred to as Direct Hair Implantation, represents a state-of-the-art approach in the realm of hair restoration. This advanced technique is characterized by its minimally invasive nature, wherein hair follicles are carefully extracted from the donor region and directly implanted into the recipient area using specialized instruments.
Notably distinct from conventional hair transplant methods, DHI does not necessitate incisions or stitches, leading to a swifter recovery period and the attainment of a naturally appealing hairline.
Why Choose DHI Hair Transplant?
1- Natural Results: DHI hair transplant provides natural and undetectable results. The technique allows for precise placement of hair follicles, ensuring a natural hairline and overall aesthetic appeal.
2- Minimally Invasive: DHI is a minimally invasive procedure that does not involve any incisions or stitches. This reduces the risk of complications and results in minimal scarring.
3- Faster Recovery: Due to the absence of incisions, the recovery time after DHI hair transplant is significantly shorter compared to other methods. Most patients can resume their normal activities within a few days.
4- Maximum Graft Survival: DHI hair transplant ensures the highest possible survival rate of hair follicles. The specialized tools used during the procedure maintain the viability of the grafts, resulting in a higher success rate.
5- Painless Procedure: The DHI technique is virtually painless, thanks to the use of local anesthesia during the procedure. This ensures a comfortable experience for the patients.
Why Choose Miracle Hair Clinic Turkey?
1- Expertise and Experience: Miracle Hair Clinic Turkey boasts a team of highly proficient and seasoned hair transplant specialists who possess a wealth of expertise in successfully performing a multitude of DHI procedures. Their extensive experience guarantees that you will receive the utmost level of care and achieve optimal outcomes.
2- State-of-the-Art Facilities: We take great pride in our cutting-edge facilities that are equipped with the latest technological advancements and state-of-the-art equipment. Our clinic provides a secure and comfortable environment, ensuring that your well-being is prioritized throughout your hair restoration journey.
3- Personalized Treatment Plans: We understand that each individual has unique hair restoration goals and requirements. Our team of experts comprehends this fact and is dedicated to formulating customized treatment plans that precisely cater to your specific needs and desires. We strongly believe in delivering a personalized approach to guarantee the finest possible results.
4- Comprehensive Consultation: At Miracle Hair Clinic Turkey, we provide thorough consultations to comprehensively evaluate your hair loss condition. During these consultations, we take the time to thoroughly discuss your expectations, address all your inquiries, and furnish you with detailed information regarding the DHI procedure. Our primary objective is to ensure that you are fully informed and confident in your decision to undergo treatment.
5- Affordable Pricing: Our unwavering belief is that superior-quality hair transplant procedures should be accessible to all individuals. Hence, we offer competitive and transparent pricing options at Miracle Hair Clinic Turkey. Our dedication to affordability ensures that you receive exceptional services without compromising on the quality of care you rightfully deserve.
6- International Standards: At our clinic, we meticulously adhere to the highest international standards of hygiene, safety, and professionalism. We prioritize patient safety above all else and diligently maintain stringent protocols to establish a sterile and secure environment. You can have complete confidence in our unwavering commitment to your well-being and comfort throughout your entire experience with us.